Succulents NEW! | Wax Melt
Scent Description and Scent Notes:
Succulents — Perfect for any plant lover, this earthy scent is a quintessential addition to your collection of plants and succulents.
Earth Incense, Cinnamon Stick, Blackberry
Raw Honey, Clove Leaf, Smoked Leather
Patchouli, Dark Woods, Vanilla Bean
"Our candles are part science, part art. The crucial part of the process is getting the fragrances absolutely right."
— President/CEO Michael Kittredge III
Customer Reviews
Write a Review
Ask a Question
Filter Reviews:
scent
cubes
leather
woods
hint
berry
cinnamon
opium perfume
room
notes
I recommend this product
One of my new favorites
I have grown to love both the Succulents candle and wax melts. I have a mixed tolerance for fragrance. While I like some fragrances to be super strong (fresh and citrus scents) others I prefer a mild to light throw. I would consider this a mild-to- medium throw. Two cubes will lightly fill a room with a beautiful floral, earth, and desert fragrance. It's beautifully subtle. I loved it in early spring and think it'll be just as nice for fall. I do t plan on burning this in the summer as I prefer juicy fruit, aquatic, or citrus during that time. I love this scent. I've come back for more.
05/16/2022
Karyn G.

United States
05/05/2022
KB

United States
I recommend this product
Succulents
Wasn't sure at first but it grew on me. Smells like pipe tobacco from when I was a kid and old guys smoked pipes and went to tobacco shops. I like it! I can definitely see this one being polarizing scent
05/04/2022
Greg J.

United States
I recommend this product
Very gritty and Incense
My brain goes straight to dry gravel roads when there's no humidity in the hair and that dry heat kicks you. Second thing my brain goes to is meditation, when you are meditating and you have that specific room that resembles a psychic's room. that's the scent I smell. The patchouly is very real and deep. I Smell Incense also.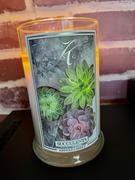 04/27/2022
Deborah

United States
I recommend this product
Smoky woods with a hint of spice
This not what I was expecting but it was very good!! It smells like a smoky woodsy scent with a hint of cinnamon. At first I smell a hint of berry with the woods and the spice but that does fade away over time. I do not like leather which is in the notes and I never smelled it so I wouldn't worry about that if you don't like that. It's been a very cool rainy spring so far and this scent has been perfect. It was medium in strength and I used two cubes in a room. It's a very long lasting scent.